There's no better way to start the New Year than with a wardrobe detox! Surely it's the best detox ever as it costs no money (always a bonus at this time of year), you don't even have to leave the house and you can still eat and drink what you like!
Spending a few hours reviewing your current wardrobe and making the most of what you already have (honestly, everyone has some good stuff!), you will not only feel totally revitalised but it will also focus you in on what you actually need. This is always important when the sales are on as it will prevent you buying stuff for the sake of the price! Not only is there a huge possibility that, through conducting your own wardrobe makeover, you will find something fabulous to wear, but it will also enable you to cleanse your closet, make space for new pieces and you'll be able to move your hangers to be able to see what you actually have! It feels fabulous to know exactly what is in your wardrobe and know what you are doing with each item, what you are wearing it with and where to. Don't let your outfit selection stress you out each day - make it a new years resolution to detox your wardrobe!
On a recent Facebook LIVE for QVC I also talked about the benefits of not splitting your summer and winter wardrobes - it's amazing how many summer items you can put layers underneath to enable you to wear them all year long.....and completely nail a trend whilst you're at it! Click on the photo below to watch the Facebook recording.......
My Tips for an Effective Wardrobe Makeover......
1. Be prepared to spend at least 3 hours on the review and get large bags ready to put any well loved but now redundant items in to give to charity.
2. Start with your bottoms as these are the foundation to your wardrobe - how many pairs of blue jeans do you need? Do your 7 for all Mankind jeans from 2004 still fit you? etc. etc.
3. Then move on to tops, dresses, jackets and finish with shoes and accessories - be ruthless.
4. Questions to ask yourself - when did you last wear it? Does it still fit? What are you wearing it with? Can you complete the outfit or is something missing? Where are you wearing it to? It's amazing how much people keep that simply doesn't fit or doesn't have a place in their current lifestyle. e.g. how many black tie dresses or sling back shoes do you need when you go out once a fortnight to the local pub?!
5. Anything that you've decided to part with needs to go into a bag for charity or, if in good condition and a higher end brand, it could well be worth selling in a local dress agency, or use fantastic website 'Hardly Ever Worn It' that sells gorgeous second hand fashion.
6. If you come across a piece you love but don't know how to wear it, then you may well be missing a key item. Make sure this is a focus on your next shopping trip and refrain from buying another grey marl jumper or breton stripe!
7. Anything that needs dry cleaning, altering or repairing, put it to one side and not back in your wardrobe! Make that pile a priority so you can get wearing them again and then they won't just sit in your wardrobe!
8. Once you know you love everything that you have kept, then think about how to use the space you have available to you. The more pieces that are visible the better - the more you see them the more you wear them. We aren't all lucky enough to have the dressing room space like my lucky client below, but think about shelving for shoes, clear shoe boxes, velvet coated thin hangers rather than wooden ones which take up so much space! Just having a refined wardrobe will help dramatically with this.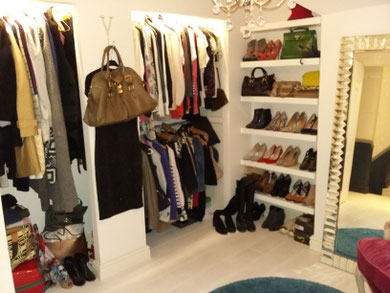 At the end you should feel thoroughly cleansed and super happy with yourself! You now have a wardrobe of items you love, that you know fit and a whole host of new found outfits to enjoy!
After doing a Wardrobe Makeover you may find you still never have enough time to choose an outfit in the morning. If so, try taking photos of yourself in your outfit each day and keep them in a folder on your phone. Use this as a reference each morning when you wake up - it's your own wardrobe catalogue to choose from and it takes just a second to snap yourself in the mirror in the morning or evening.
And if you can't imagine ever getting round to doing any of the above, then just get in touch and let me do it all for you - I'll even find those missing items on your list and create your wardrobe catalogue for you!
Happy cleansing!
1 Comments