Part of my brief on a personal shopping trip this week, was to find something gorgeous and red for my client to wear on Christmas day! There is of course a huge amount of red, sparkly options out there, but to find the right piece that doesn't scream sexy Santa or Virgin air hostess is not the easiest task! With all the necessary research prior to the session, we nailed it first time and found the perfect piece - I loved it so much I had to go back and get one too!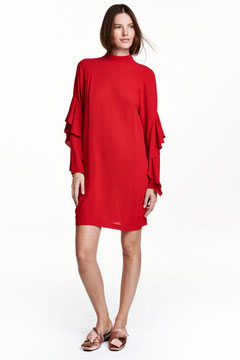 This is it - a fabulous dress with gorgeous frill detail on the sleeves. Enough coverage on the neckline to be playing family board games on the floor, but short enough to feel fabulous! Looks great with opaque tights and pointy ankle boots (like the ones in my previous blog from & Other Stories). My client ideally didn't want to spend a fortune with it only being worn for one day.......... £24.99! Thank you H&M!
Other gorgeous red pieces.......