Corporate Styling Events & Client Entertaining
Let me organise an engaging and fun day or evening for you and your employees. Or you may be looking for something more informative with a focus on improving individuals' image and confidence through personal styling – learning how to dress to get ahead.
Please see below for 4 example packages and testimonials from recent events. I can of course also tailor a package to suit your company's and employees' requirements (price on application):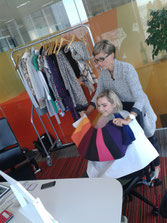 Professional Image Seminar
It is said that 9 out of 10 first impressions stay unchanged. How your employees present themselves not only affects their inner confidence but also the success of your organisation. I can show how personal styling can ensure everyone makes the right first impression and therefore improve your corporate image and ultimate success. An example seminar could include:
The importance of first impressions
Theory of colour and body shape analysis – helping employees to enhance their best features and improving confidence and self-esteem.
Appropriate business dress and how to do a 'dress down Friday'
How to dress to get ahead
Effective personal grooming and image breakers
Individual consultations to follow
 "Caroline came to BDO to deliver a personal image workshop. I cannot recommend her enough and it certainly is not an easy task to get accountants thinking more about image. Caroline's session was thorough, engaging and delivered in a very easy professional manner. The subsequent one-to-one sessions offered the perfect opportunity for more personal image coaching which several found very useful and come strongly recommended."
Tomas Freyman, BDO LLP, February 2015
"MasterCard in London worked with Caroline from the Style Bureau to coincide with the re-launch of it dress code policy. The professional advice provided by Caroline helped its employees find the right balance between reflecting their individualism and compliance with the code. The event was a huge success."
Caitriona Wheelan, MasterCard, June 2015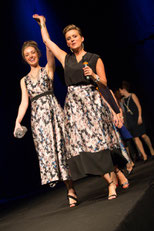 Fashion Show Event
Organisation of all aspects of a fashion show from models to outfit sourcing and music

Fashion show commentary to talk through outfits being presented

Individual colour and style consultations after the show

Goody bags if required
 Caroline has produced a hugely successful series of Fashion Shows at the Rose Theatre. She works exceptionally hard to make sure every detail is perfect and the results speak for themselves in the polished and professional events she has helped us to deliver. Caroline has an amazing knowledge of current trends and seems to know exactly what today's fashion conscious shoppers need and want. Our audiences find her love of fashion irresistibly infectious – whatever their age, style or budget our guests always leave the show bursting with excitement and inspiration for their next shopping trip!
 Liz Beatty, Rose Theatre, Kingston, September 2015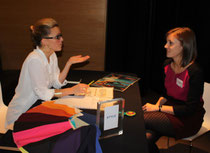 Corporate Styling Event
Treat your employees or clients to a fun, informal styling event:
Individual colour analysis

Body shape clothing guidelines and demonstrations

Trend overview for the current season

Fashion goody bag for each guest
"The Styling evening Caroline ran for us was a huge success. Caroline delivered a fun and informative talk about key season pieces, body shapes and personal colours. Our clients loved the individual consultations and we received great feedback from the evening, I will definitely be running future client entertainment events with Caroline who was a pleasure to deal with."
Louise Hemming, Quantcast, August 2013
"Caroline came into CVC to do a styling event for the assistants.  What a huge success!  Caroline gave a trend presentation at the same time as being bombarded by questions by the girls all of which were answered in her informative, fun, calm manner.  She also spent time with each one of the girls advising them on body shapes and personal colours.  I cannot recommend Caroline enough and a few of the girls even scheduled a Personal Shopping experience with her afterwards.  Caroline is the kind of person that every girl wants as her best friend, especially on a shopping trip.  We will definitely be doing this again."
Liz  Moor, CVC Capital Partners, October 2015
To book a corporate event or for more information, please call 07904 958195 or send me an email.