It's been over a year since I bought anything from Zara, but I can honestly say that some of my favourite ever pieces, and many of my fall back head-to-toe outfits, have been from this fashion powerhouse!
Since my challenge of 'not buying anything new for a year' and with my 'conscious shopper' head on, I do struggle seeing the vast amount of fast fashion that's produced to tempt us each season - is there really any need to produce so much? On a positive note, there is now a huge focus on an ethical supply chain, a goal of zero waste by 2023, and their environmentally conscious sub brand, 'Join Life', is growing fast - by 2025 100% sustainable cotton, viscose, linen and recycled polyester will be used across their collections!
I wore two of my favourite head-to-toe Zara outfits today - one for commuting to QVC and one actually on air! All pieces are old but here are a few environmentally conscious alternatives that are available right now from the 'Join Life' collection (just click the images for links to the website). My continued wardrobe goals are to buy less, wear more and shop a mix of ethical High Street brands, smaller independents, pre-loved and charity shops - you not only spread the love and help the environment, but you get a way more interesting wardrobe this way too!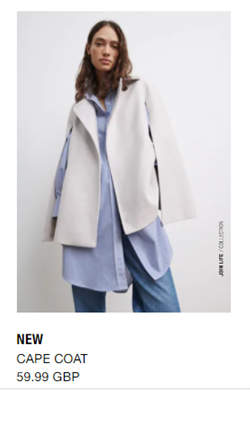 Light grey cotton blend cape using at least 50% organic cotton and 25% recycled polyester. Part of the 'Join Life' collection.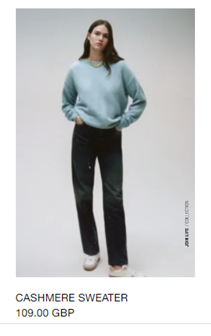 Pale blue cashmere jumper made of at least 90% recycled cashmere. Part of the 'Join Life' Collection.