As soon as you walk around any womenswear shops at the moment you will be confronted by an army of all sorts of different shirts and shirt dresses! If you haven't used your iron for a while you better dust it off and de-scale! You're going to need it keep up with this trend!!
One of the huge catwalk trends with shirting has been labelled 'de-constructed shirting' where you will find an average shirt has been taken apart, mixed up, cut about and put back together in a much more interesting way! Interesting sleeve details are also a feature breathing new life into the standard shirt. See images below.......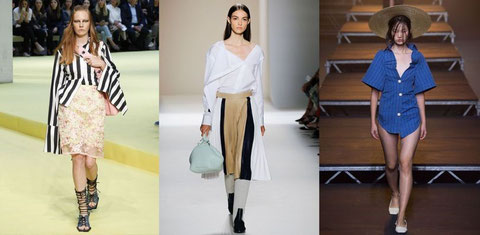 I'm a big fan of shirts and always rely on them for great transitional pieces - they still give good coverage but have a fresh spring feel about them as we leave our warmer fluffy knits behind! The difficult bit is which new one to choose!! Here are a few favourites out on the High Street....... click the image for the link........