Wardrobe Makeover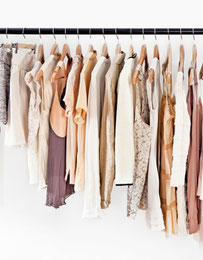 £210 (Up to 3 hours)
It is a totally believable fact that on average we wear 20% of our wardrobes 80% of the time! Let me bring your wardrobe back to life and put together stylish new outfits you didn't even know you had. The results of a wardrobe makeover session are instantly recognisable and you don't even have to go shopping!
A virtual wardrobe makeover is also possible via Zoom.
This session includes:
Review, edit and reorganise your wardrobe
Highlight key pieces you own and how to create stylish outfits
Identify gaps of key pieces and create a shopping list of items
You can upgrade this package to include a personalised shopping list which gives you perfect suggestions, with web links, for the missing items we have identified. This upgraded package costs £280.
You can of course find those missing 'must have' items yourself or let me do the hard work for you and join me on a personal shopping experience.
I offer daytime and evening wardrobe sessions on weekdays, and for a session at the weekend I charge a £30 premium.
To book a personal styling service or for more information, please call 07904 958195 or send me an email.