Colour Analysis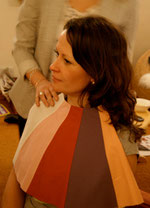 £75 (1 hour)
Colour analysis is a key part of personal styling, as wearing your best colours will not only make you look healthier, but younger and slimmer too. By understanding which colours compliment your skin tone and features, you will have confidence when shopping to buy into more colourful outfits. This will both enhance your natural colouring and also add interest to your wardrobe too.
This session includes:
Using colour drapes I will identify which colours compliment your natural colouring and enhance your features
I will explain how the colours affect your colouring and features so you can understand why certain colours work better than others
I will indentify which seasonal palette works best for you and any key colours that really enhance your features
INCLUDED in the price is a handy seasonal wallet, full of swatches of your optimal colours, for you to keep and use on future shopping trips and when co-ordinating outfits
A colour analysis session typically takes place at my home in Leicestershire, within easy reach of Nottingham, Leicester and Birmingham, but an alternative location may be arranged for an extra fee. Alternatively you may combine this session with a wardrobe makeover and the fee will be waived.
I offer daytime and evening consultations on weekdays, and for a session at the weekend I charge a £30 premium.
To book a personal styling service or for more information, please call 07904 958195 or send me an email.