I have been personal shopping with lots of clients recently who have been searching for birthday party, clubbing and general 'going out' outfits. Summer always seems to present more challenges than winter when it comes to party outfits - partly because you can't wear tights and often don't want anything too short. So, I thought I'd share with you a few of my latest finds (short and long) to keep you looking glam for all those summer parties!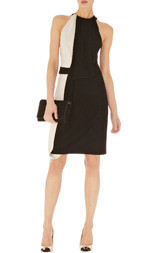 Karen Millen - Colour Block Jersey Halter Dress
This is such a timeless dress with super sexy halter detailing and it's a great length too, so easy to wear without tights.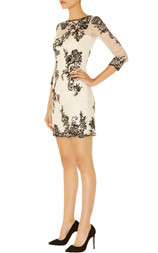 Karen Millen - Embroidered Mini Dress
Gorgeous mesh mini dress with beautiful oriental embroidery and striking V back detail. It's pretty short but this is balanced out with the longer sleeve, giving it a more elegant feel.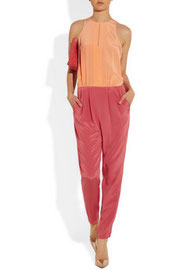 Tibi - Silk Jumpsuit
A stunning peach and pink jumpsuit giving a modern edge to a very feminine look. LOVE IT!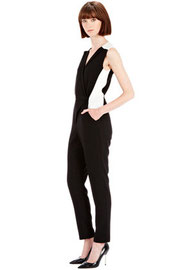 Warehouse - Tailored Jumpsuit
A fabulous colour block softly tailored jumpsuit for a sexy adrogynous look.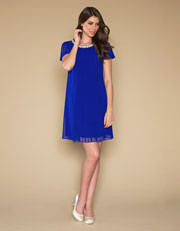 Monsoon - Embellished Neckline Sheer Pleated Dress
In beautiful cobalt blue, this stunning sheer dress will skim your curves and keep you cool. It has a gorgeous embellished neckline and pleating to the front for added detail.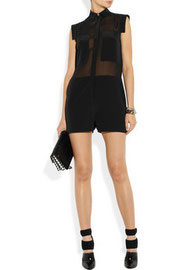 T by Alexander Wang - Sheer Panel Playsuit
A totally stunning black playsuit with sheer panels on the bodice - let this one be your new replacement for a LBD!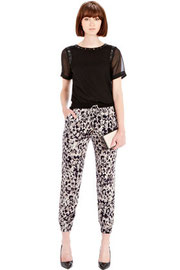 Warehouse - Abstract Animal Trousers
A huge trend right now is the soft formal jogger - great for dressing up and down and staying cool in ths weather! I'd be lost without my little collection!
What is your favourite party outfit for the summer? What do you think of the High Street finds above? I'd love to hear your comments!
Click here to return to the main blog page