From burgundy to bordeaux, red wine tones are dominating the colour trends this Autumn/Winter. Seen all over Fashion Week, shades of red in various fabrics create a dramatic and glamorous look for an instant autumnal wardrobe update. Check out the catwalk images below for inspiration and then a few fabulous finds on the High Street - all ready and waiting for you in stores now!
Catwalk Looks
Highstreet Red Wine Tones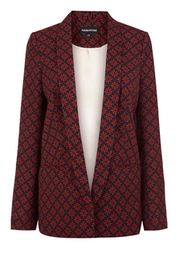 Tile Print Jacket, Warehouse
A printed jacket is a great way to make a plain outfit exciting and keep warm during the transitional months! Tile print is going to be huge this autumn, so welcome the fun trend with a printed blazer for casually cool look.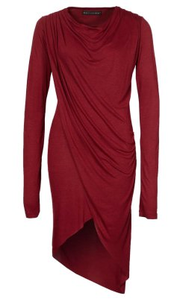 Jersey Dress, Religion
Ultra feminine and form fitting, this beautfully draped dress will give you a classic but contemporary look that will become a staple in your closet.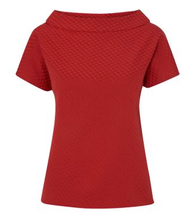 Jaquard Shell Blouse, Matalan
The colour and texture of this blouse is effortlessly fashion forward and chic. With a 60's feel, this catwalk inspired item is super stylish and such a great price too!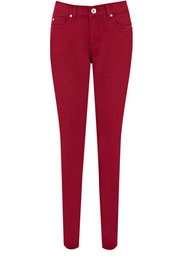 Deep red skinny jeans, Oasis
The 'Cherry' skinny leg style from Oasis has been brought back in for autumn in a range of fab winter colours. With it's great fit (not too super skinny) they offer an instant wardrobe update in this gorgeous deep red tone.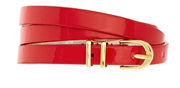 Metal Keeper Super Skinny Waist Belt, ASOS 
Brighten up a plain outfit and create curves with this bold red skinny waist belt. Remember, don't over-do it on red accessories - one red item is enough!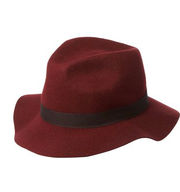 NW3 Willow Hat, Hobbs
Add a sophisticated twist to your outfit with this chic felt hat. It's a versatile piece in a deep red wine tone that will bring the plainest of outfits up to date!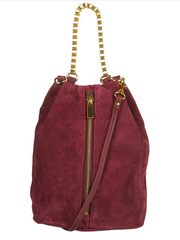 Box Chain Leather Bag, Topshop
A warm berry shade and edgy chain detail subtly work the trend and add impact to a minimilistic outfit. Go on, treat yourself to a new bag for the start of the season!
Click here to return to the main blog page.