If this week's beautiful weather has left you in a clothes crisis, take a look at some key pieces for this summer which are available in store right now. Make the most of the sun, whenever it appears, and update your look with radiant yellows, feminine details and bold prints for style that exudes summer charm and elegance. 
Celebrity Summer Style

Keira Knightley
A tie front shirt is a great way of creating a minimal, relaxed city look. Being such a versatile piece means that it can be paired with anything, even worn over a bikini on the beach! 
Pleated skirts are a must-have for the summer - airy, feminine and perfect for any occasion. 
  Image from instyle.com

Chloe Sevigny
If you're not a fan of denim shorts then there is an alternative! A more elegant and prettier trend for the summer is a pair of scalloped shorts. Flattering and feminine, they will work for both day and night - just swap sandals for heels when going out in the evening.
A boater hat and statement shades creates a fresh summer look with an edge. 
 Image from Cheapchicas.com

Lauren Conrad
 Maxi dresses are a huge hit every summer and they make a statement whether dressed up or down. With Spring Summer 2012 bringing prints into focus, a summery maxi dress will ensure you are the centre of attention. 
image from stylehive.com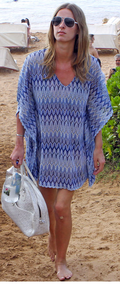 Nicky Hilton
Kaftans are a fabulous way to cover up on the beach. They are practical, comfortable and a simple way to add instant glamour to your holiday wardrobe. 
Image from bohomoth.com
Summer Essentials
All the key pieces below are available in store or online right now - just click the image to be taken to the website. Happy shopping!
Click here to return to the main blog page.