In response to Lucy Steer's comment on my blog about SS12 trends to wear right now, I have put together a few styling tips and celebrity images on the PASTEL JEANS trend which has saturated the High Street already! Once it warms up, this outfit is a no-brainer, but whilst it's still chilly and you need a coat and boots, wearing pastel coloured bottoms can be a tricky one to pull off (unless you are a true clothes horse!).
Go Deeper For January..........
If you want to buy into the coloured denim trend now, it's easier to buy a deeper colour and then do the pastel trend when things warm up a bit (March/April). The key to wearing coloured jeans is to wear them with clothes and accessories that have the same depth of colour i.e. if your jeans are a pastel colour, wear them with similar pastel shades, but if they are a rich, saturated shade, use colours with more depth. The colours don't have to be the same, just the saturation. The Net-a-Porter outfits below work well as all the deeper colours are balanced meaning that the eye is drawn over the whole outfit rather than focussing on one part.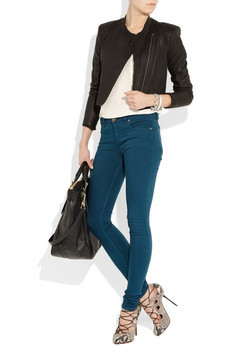 And If You Have To Do Pastels Right Now.......... 
If you really want to go pastel then try to keep everything else quite light, including shoes, otherwise all the attention will be drawn to your legs and this can completely throw your proportions. Also if you wear dark shoes with pale pastel jeans you will look really disjointed and it can make your feet look like boats! The two celebrity images below of Cameron Diaz and Leann Rimes are great examples of making the pastel jeans work with similar soft shades - roll on spring!