I love early January when exciting new spring summer stock starts hitting the High Street but let's face it, there's so much out there that is just not wearable at this time of year! One spring summer trend that is perfect to buy into right now is BIRD PRINTS. From graceful abstract lines to bold placement prints, this is a great transitional trend, which will take you through to summer and beyond. Be as bold as you dare with the print in a T-shirt or a dress, and if you just want a highlight added to your wardrobe, then opt for a bird print scarf.
Catwalk Inspiration
Catwalk images to inspire (from left to right) include the gorgeous printed T-shirt by Giles, the striking black abstract print dress by Marc by Marc Jacobs, the sophisticated shirt dress by Carolina Herrera and the stunning abstract print dress by Mary Katrantzou. (Click an image for the gallery to appear).
Best of the High Street
This trend has hit the High Street already and I have picked the best bits below just for you - go on, freshen up your wardrobe with something different!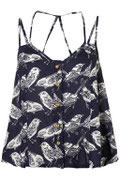 Pretty Printed Cami
This gorgeous navy bird print cami from Topshop is a great find at £26. This cross back cami can be layered under a jacket and worn with skinny jeans for the chilly months and for summer, wear with white slim leg capri's for a chic and stylish look.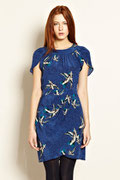 Striking Printed Tulip Sleeve Dress
A striking blue bird print dress at £65 from Warehouse is a versatile way to take on the trend. The tulip sleeve detail, gathering at the neck and wrap skirt add pretty feminine details and adding a skinny black belt would help accentuate the waist. Wear with ankle boots and a drape jacket in the day and glam up with heels, jewellery and a clutch bag for going out.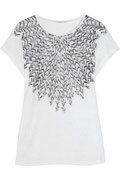 Rock 'n' Roll T-Shirt
This cool feather print T shirt from Faith Connexion (Net-a-Porter) is a more rock 'n' roll take on the trend and a great investment piece at £125. For now, wear this casually with skinny black jeans and a leather biker for a bit of an edge. For summer wear with pastel skinny capri's for a cool weekend look.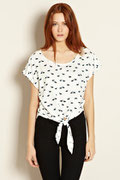 Cute Tie Front Top
This cute flamingo print woven top with tie front detail from Warehouse is great value at £30. It will look gorgeous with jeans for a casual outfit and with denim shorts for a summer look.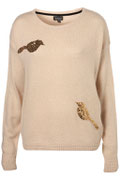 Quirky Sequin Detail Knit
This nude angora knitted jumper with sequin embellishment from Topshop is a quirky take on the trend. At £46 this is a great addition to your wardrobe and will look fab worn with jeans for now and bleach wash denim shorts for spring.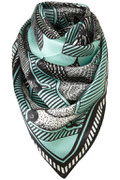 Statement Scarf
A more subtle take on any print trend is to buy a printed scarf! This striking black and green bird print scarf from Beta (Topshop) is £35 and made of 100% silk. Add this scarf to a plain black tailored dress to update your work wardrobe or accessorise a plain white T-shirt with jeans for a more casual look.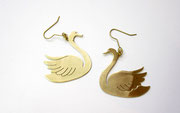 and to finish the outfit off......
I absolutely love these swan earrings from Galibardy jewellery company. They are an absolute steal at £7 and will add an instant wow factor to any outfit. Keep your outfit simple and let the earrings make the statement! These earrings are currently sold out, but I still had to share them with you as they can be made to order - just email info@galibardy.com.